Mary Leiter, future Baroness Kedleston
I'm still knee deep in stories of the Gilded Age but instead of cautionary tales of social marriages gone sour, I thought I would detail the love match of Mary Leiter and George Curzon, Baron Kedleston.
Mary Leiter was the daughter of Chicago businessman Levi Leiter, who co-founded the Marshall Fields department store empire. She was one of the second generation Buccaneers who was highly educated, beautiful, and adept at all those social niceties so coveted by young ladies the world over.
After spending time on Dupont Circle in Washington, D.C., Mary (who was BFFs with first lady Frances Folsom Cleveland) did the obligatory tour of Europe before landing in London in 1894. There she met George Curzon, an enterprising journalist, world traveler, politician, and heir to the Barony at Scarsdale. They both seem quite enamored of each other, but strangely enough, they went their separate ways at the end of the season. Mary went back to Washington and George continued to gallivant the East Indies.
George Curzon, Baron Kendleston
But absence must have made the heart grow founder, for George turned up in Washington the next year, and the couple was married soon after on April 22, 1895 at St. John's Episcopal Church. Of course they hared it back to England, where George went from one political victory to the next, and soon the couple was headed to India as the Viceroy and Vicerine in 1898.
They lived in India for many years, where Mary was known for her society shindigs and philanthropy. The couple had three daughters--Mary, Cynthia, and Alexandra--all of whom either slept with or were married to the famous socialist Oswald Mosely. As was their future stepmother. Um, gross?
Sadly, Mary suffered greatly from a miscarriage and never fully recovered. Apparently she underwent some sort fertility related surgery as well in an attempt to conceive a son for dear George's barony. She died in London in 1906 at the age of thirty-six. George was so distraught that he erected a memorial chapel for her remains on the grounds of Kedleston Hall.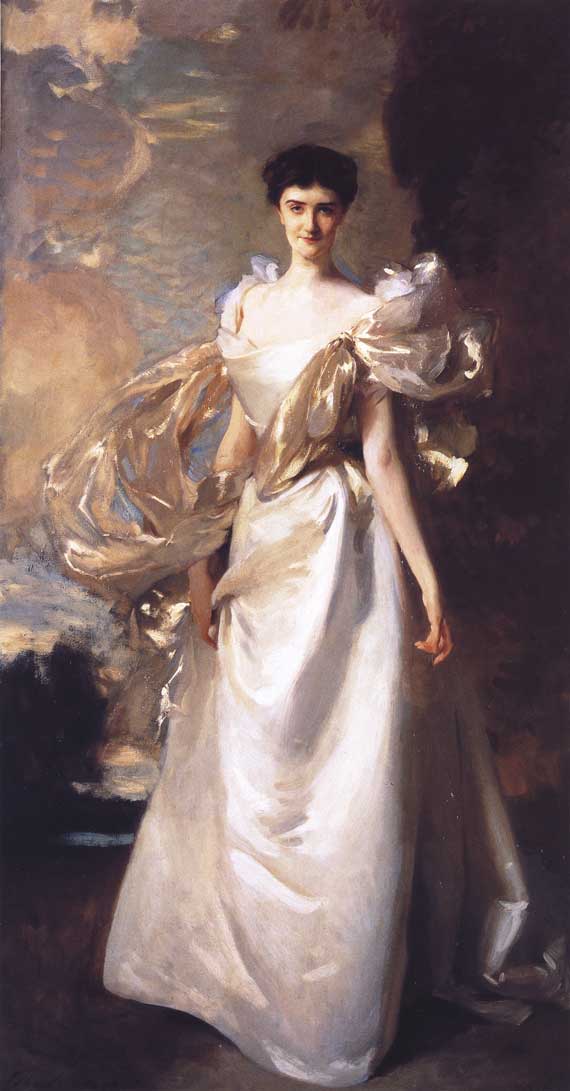 Margaret "Daisy" Leiter by
John Singer Sargent
Back briefly to the Leiter family, who were quite extraordinary in their own right. All the sisters went British. Nancy Leiter became the wife of Lt Colonel Colin Campbell and was known as America's most beautiful woman for a time. She met Campbell while visiting her sister Mary in India.
The other Leiter sister Margaret, better known as Daisy, was also a successful buccaneer. She married Henry Howard, the 19th Earl of Suffolk (and 15th Earl of Berkshire) in 1904.
In 1931, the Leiter family was divided when Daisy sued her brother Joseph over his mismanagement of their father's multi-million dollar estate. The lawsuit dragged on for eight years and racked up over a million dollars in court and attorney fees. Though Joe's tastes were extravagant (he famously purchased some 50 dozen pairs of silk socks and at one point tried to buy the Great Wall of China), the court refused to intervene since he had managed to increase the estate's working capital from 12 million to 17 million. However, when a special audit was conducted six weeks later, Joseph voluntarily resigned. When he died the next year, his personal estate was worth a million dollars. Daisy was still living in London when a 1937
Time Magazine
article documented the trials and tribulations of the fabulous Leiter family.